to break fast : some considerations about morning clouds and domestic ocean
Par ZB, (ghost) le mercredi, 13 juin 2007, 15:29 - General - Lien permanent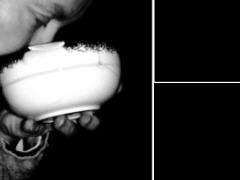 cornflakes heroes
lifeline
2006
(française version)
La photo, c'est juste pour illustrer et si on ne voit pas le paquet d'pétales maïs c'est juste que j'avais dû le ranger. Remarquez qu'on ne voit pas plus le lait alors que, et vous devez me croire sur parole, dans le bol, l'équivalent d'un cumulo-nimbus de lait est tombé dans l'océan de café.
(englikhtonian version)
The photograph is only here to illustrate and if you don't see the petals corn pack it is because I had had to put it back on its shelf. Notice that you don't see the milk more than that, and you must believe me, in the bowl, sooner, the equivalent of a cumulonimbus of milk fell in the Coffee Ocean.
cornflakes heroes
écoutez/listen
acheter/buy "off with your heads" (greed recordings)
bonus
cornflakes heroes (on youtube)
image "p'tit déj" by ZB