Four questions in the Wind : Now wakes the Sea
Par ZB, (ghost) le vendredi, 27 avril 2012, 14:14 - 4 questions - Lien permanent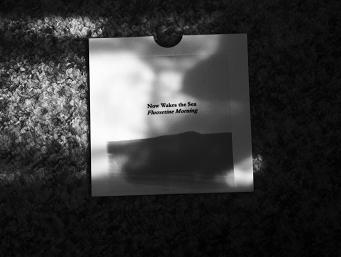 En mars, à force de traîner de tag en tag ,sur bandcamp, ce sont des choses qui arrivent, j'ai eu un coup de coeur. Fluoxetine Morning de Now Wakes The Sea. Alan McCormack, son créateur, a accepté de répondre aux quatre questions du Vent.
In March, bandcamping around, from tag to tag, these things happen, I had a crush. Fluoxetine Morning by Now Wakes The Sea. Alan McCormack, his maker, has agreed to answer the four questions in the Wind.

1. do you remember your first musical emotion ?
When I was younger, up until aged ten maybe, I'd spend a lot of time travelling with my grandparents and they'd play cassettes of sweet melancholic fifties and sixties pop, from The Everly Brothers to Roy Orbison, The Hollies, even early Beatles. I'd also be exposed to wartime jazz records like In the Mood and Chattanooga Choo Choo and Little Brown Jug by Glenn Miller and The Andrews Sisters and similar artists of that time that I forget. I was amazed that music could so easily change your mood - make you happy, make you sad, make you reminisce. And recently I've been going back and listening to a lot these artists and the memories these songs have attached to them are incredibly special to me.

2. how did you first get involved in music ?
No one knows. My parents and relatives simply liked to buy me instruments I could make noise with, and growing up I owned acoustic guitars, toy keyboards, and numerous percussion instruments, including a steel drum from Tobago that I wish I could find. I've always had an interest in manipulating sound - I remember being no older than five and recording myself onto cassette tape and playing with the panning and volume and thinking it was amazing, and that's an interest I still have, manipulating audio with electronics.
Oral Arms by Now Wakes the Sea

3. could you tell us a bit about your influences and musical tastes ?
The Beatles, always. After gorging myself on their more experimental work when I was younger, I've spent the past few years delving into their earlier work and I love everything about it, from the bare production techniques to the overall songwriting. I also admire the work of Phil Elverum from The Microphones and Mount Eerie, particularly how he blends experimental music with simple acoustic based songs. And recently I've been listening to records by The Caretaker on repeat - he creates a fantastic little world to immerse yourself in. And Song Cycle by Van Dyke Parks is the best record ever.
4. do you have a 'bedside record', sort of the one you're never tired to listen again and again ?
Nirvana's Unplugged in New York record is fantastic. I can't count how many times I've listened to that, and can still enjoy it. And the Help! record by The Beatles is fantastic - I spent the majority of a ten hour bus journey home from London listening to Help! on endless loop.
Fluoxetine Morning by Now Wakes the Sea

Now wakes the sea (website) (facebook) (bandcamp)
now wakes the sea in the red room, 2 fév. 2011 (subcity radio)

1. te souviens-tu de ta première émotion musicale ?
Quand j'étais plus jeune, jusqu'à l'âge de dix ans à peu près, j'ai beaucoup voyagé avec mes grands-parents. Ils passaient des cassettes de pop douce et mélancolique des années cinquante et soixante, des Everly Brothers à Roy Orbison, The Hollies, et même les premiers Beatles. J'ai aussi été confronté à des disques de jazz, période seconde guerre mondiale, comme In the Mood, Chattanooga Choo Choo ou Little Brown Jug par Glenn Miller, les Andrews Sisters et d'autres artistes similaires de cette époque dont j'ai oublié les noms. J'étais étonné que la musique puisse si facilement changer votre humeur - vous faire plaisir, vous rendre triste, raviver des souvenirs. Récemment, j'ai ré-écouté beaucoup de ces artistes et les souvenirs attachés à ces chansons me sont très chers


2. comment es-tu venu à la musique ?
Personne ne sait. Mes parents et leurs proches aimaient m'offrir des instruments avec lesquels je pourrais faire du bruit, ainsi, en grandissant j'ai eu des guitares acoustiques, des claviers jouets et de nombreux instruments de percussion, y compris un steeldrum de Tobago que je souhaiterais retrouver. Le travail sur le son m'a toujours intéressé - Je me souviens, je ne devais pas avoir plus de cinq ans que je m'enregistrais sur cassette en jouant avec la balance et le volume en pensant que c'était incroyable. Cet intérêt pour la manipulation sur le son avec l'électronique m'est resté.
Hot Cygnet Tape by Now Wakes the Sea

3.peux tu nous en dire un peu sur tes influences et tes goûts en matière de musique ?
Les Beatles, toujours. Après m'être gavé de leurs oeuvres les plus expérimentales quand j'étais plus jeune, j'ai passé les dernières années à plonger dans leurs premières oeuvres et j' en aime l'ensemble, de la technique simple de production à l'écriture des chansons. J'admire aussi le travail de Phil Elverum (The Microphones et Mount Eerie), en particulier la façon dont il mêle musique expérimentale et structure acoustique dans ses chansons. Récemment, j'ai découvert les disques de The Caretaker - qui crée un petit monde fantastique dans lequel il vous plonge. Et Song Cycle de Van Dyke Parks est le meilleur disque jamais produit.

4. as tu un 'disque de chevet', le genre que tu écoutes encore et encore ?
Unplugged in New York de Nirvana est un disque fantastique. Je ne peux pas compter le nombre de fois où je l'ai écouté, et je peux encore l'apprécier. Et Help! des Beatles, quel disque fantastique - J'ai passé une grande partie des dix d'heures du trajet en bus, en revenant de Londres chez moi, en écoutant Help! en boucle.