I remember nothing
Par ZB, (ghost) le jeudi, 5 avril 2007, 14:52 - General - Lien permanent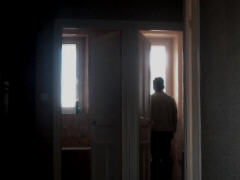 vale poher
blue time vs suspense
2007
Paleo's diary : one song, each day
ash is to ashes

(française version)
Récemment, me suis aperçu qu'uniquement je n'avais "unknown pleasures" sur cassette. Aucune trace du vinyl que pourtant persuadé j'étais d'avoir acheté un samedi matin voici presqu'un quart de siècle. Comment cette découverte - réparée dans l'après-midi - m'a-t-elle mené à Vale Poher ? aucune idée...
(englikhtonian version)
Recently, realized that only on tape I did have "Unknown Pleasures". No trace of the vinyl however that persuaded I was to have bought it one Saturday morning almost a quarter century ago. How did this discovery - repaired in the afternoon - lead me to Vale Poher ? no idea…
vale poher
écouter/listen
acheter/buy "blue time vs suspense"
bonus
vale poher 3 titres live au pop'in oct.06 (youtube)
photo "me in my own world" by ZB