Je ne sais pas si c'était mon dernier jour de poisson dormeur mais le 8 avril 2009 il m'est apparu, comme une évidence lumineuse, la certitude que Big Blood était, magique et humain, mon groupe préféré de tous les temps. Qu'il pleuve, neige ou vente. En plein soleil. Hier, aujourd'hui ou demain. Leur nouvel album "Old time primitives" le confirme. Colleen Kinsella et Caleb Mulkerin ont accepté de répondre aux quatre questions du Vent.
I don't know if it was my last day as a sleeping fish but on April 8, 2009, as a bright evidence, appeared to me the strong belief that Big Blood was, magical and human, my favorite band for all seasons. Come rain, wind or snow . Or bright sunlight. Yesterday, today or tomorrow. Their new album "Old time primitives" confirms this fact. Colleen Kinsella and Caleb Mulkerin have agreed to answer four questions in the Wind.



'one shot video' : Big Blood via producito

1. do you remember your first musical emotion ?
Caleb Mulkerin: Not really... but I do have lots of memories of listening to music with my mom. Mostly in the morning and in the car.
Colleen Kinsella : No.

2. how did you first get involved in music ?
Colleen: I went to church every saturday, my mom & dad sang, school plays, friends & family musicians. But I only wanted to play songs on guitar after I started going to shows. They were mostly local hardcore/metal bands, but it opened me up to the energy of live music. After that I went to as many shows as I could get into. I saw guys I knew playing guitar and singing. I had no experience doing both at the same time but I wanted to. Slowly I started to play music. When I met the Cerberus Shoal guys I was forced to grow faster as a musician just to keep up. It was a great trial-by-fire.
Caleb: It was always a part of my life... first through my parents.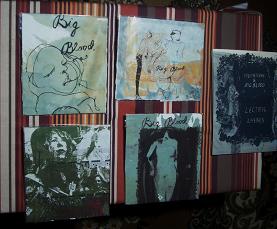 Past Time by Big Blood

3. could you tell us a bit about your influences and musical tastes ?
Caleb: Really it is just daily... kind of like eating, my life, my family, my friends, what i want to be and what i am are reflected in the music we make.
Colleen: Music listened & listening to... (It seems like every phase of my life comes with a soundtrack) Early: Quicksand, Pixies, The Cure, Joy Division, The Replacements, Throwing Muses, Public Enemy, Sinead O'Connor, Jimi Hendrix, The Doors Current: Group Inerane, Iggy Pop/Stooges/, Eddie Callahan, Wooden Wand, Village of Spaces, Caleb, Tom Kovacevic, Alvarius B, Suicide, Stones, Lou Reed, Sumatran Pop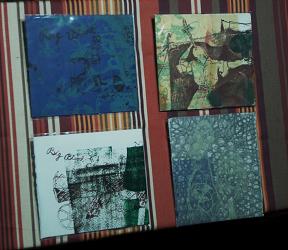 4. do you have a 'bedside record', sort of the one you're never tired to listen again and again ?
Caleb- Not really... the music I cherish most though is made by my friends.
Colleen - Usually Just a T-shirt, For Clara, John Frusciante, anything with Caleb or Quinnisa's voice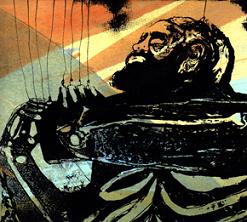 Old Time Primitives by Big Blood

Big Blood (website) (free music archive)
UPDATE : big blood/micah smaldone split 12" c/ immune rec.
behind a hill chapter 9 : big blood (youtube)

1. te souviens-tu de ta première émotion musicale ?
Caleb Mulkerin : Pas vraiment... en revanche, j'ai pas mal de souvenirs où j'écoute de la musique avec ma mère. Le plus souvent le matin et en voiture.
Colleen Kinsella : Non.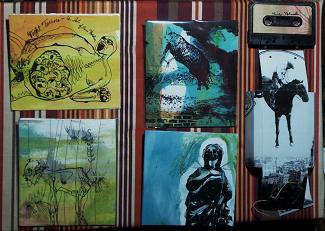 2. comment es-tu venu à la musique ?
Caleb : Cela a toujours fait partie de ma vie... au début, à travers mes parents.
Colleen : J'allais à l'église tous les samedis, ma mère et mon père chantaient, des spectacles scolaires, les amis et musiciens de la famille. Mais je n'ai voulu jouer des chansons à la guitare seulement après avoir commencé à aller aux concerts. C'étaient, pour la plupart, des groupes de hardcore/metal, mais ils m'ont permis de découvrir l'énergie de la musique jouée en public. Après ça, je suis allée voir autant de spectacles que j'ai pu. J'ai vu des gens que je connaissais jouer de la guitare et chanter. Faire les deux en même temps, je manquais d'expérience mais c'est une chose je voulais faire. Lentement, j'ai commencé à jouer de la musique. Quand j'ai rencontré les membres de Cerberus Shoal, j'ai été forcée de progresser plus rapidement en tant que musicien pour rester en phase. C'était une grande épreuve du feu...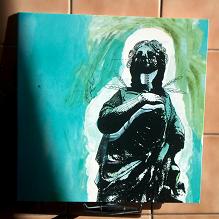 3.peux tu nous en dire un peu sur tes influences et tes goûts en matière de musique ?
Caleb : C'est vraiment au jour le jour... un peu comme manger, vivre, ma famille, mes amis, ce que je veux être et ce que je suis se reflètent dans la musique que nous faisons.
Colleen : La part de ce que l'on a écouté et de ce que l'on écoute... (J'ai l'impression que chaque moment de ma vie est livrée avec une bande-son). Plus tôt : Quicksand, Pixies, The Cure, Joy Division, The Replacements, Throwing Muses, Public Enemy, Sinead O'Connor, Jimi Hendrix, The Doors. Actuellement : Group Inerane, Iggy Pop/Stooges/, Eddie Callahan, Wooden Wand, Village of Spaces, Caleb, Tom Kovacevic, Alvarius B, Suicide, Stones, Lou Reed, Sumatran Pop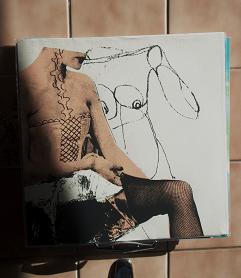 never let me go by Big Blood & the wicked hex

4. as tu un 'disque de chevet', le genre que tu écoutes encore et encore ?
Caleb: Non, pas vraiment ... mas la musique que je chéris le plus est faite par mes amis.
Colleen : Usually Just a T-shirt, For Clara, John Frusciante, quoi que ce soit avec Caleb ou la voix de Quinnisa