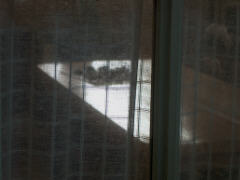 cindytalk
play time
1988
annelies monseré
we'll dance
2005
(française version)
Au départ, ça commence simplement. Par un achat. Un disque vinyl 10". Pas n'importe lequel. "Silver shoals of light". Le nouveau Cindytalk. Pour ceux qui ne connaîtraient pas ou auraient oublié (?), derrière Cindytalk, il y a la voix incandescente de Gordon Sharp (je l'ai pour la première fois entendu sur "Sixteen days", le 1er maxi de This Mortal Coil). Au départ, il y a un achat. Simple. A l'arrivée, la découverte d'un label merveilleux, Blue Sanct. Qui, non seulement, propose, d'ores et déjà, un concurrent sérieux au disque de l'année... 2009 : le futur album de Body of John The Baptist. Mais aussi publie "Helder", album sublime et fragile, d'une des artistes que je chéris, Annelies Monseré.
(englikhtonian version)
Initially, it starts in a simple way. With a purchase. A vinyl LP 10 ". Not an average one."Silver shoals of light." The new Cindytalk. For those who do not know or have forgotten (?), behind Cindytalk, there is Gordon Sharp's voice, incandescent, (I heard him for the first time on This Mortal Coil's first 12" "Sixteen days"). Initially, there is a purchase. Simple. Upon arrival, the discovery of a wonderful label, Blue Sanct. Which not only offers a serious contender for the record of the year... 2009: Body of John the Baptist's forthcoming album. But also "Helder", amazing and fragile, by one of our dearest performers Annelies Monseré.
cindytalk
of ghosts and buildings
ecouter/listen
acheter/buy "in this world"

body of john the baptist

annelies monseré
ecouter/listen
visiter/visit blue sanct
un conseil : acheter/buy tout/the whole catalogue
bonus
cindytalk live june 2008
cindytalk live at Luminaire
&
the next world directed by Len Burge
& pour memoire
this mortal coil - sixteen days -gathering dust (en bande-son)