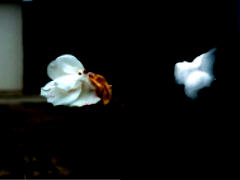 thomas brinkmann
2suns
2008
costa music
feathers
2008
(française version)
Deux pochettes noires. Sur l'une, deux plumes blanches. Dans l'autre, sous le lettrage blanc, deux soleils froids. Quel temps mettront elles pour parcourir la distance qui sépare l'un et l'autre? Si jamais y parviennent.
(englikhtonian version)
Two black covers. On one, two white feathers. In the other, under white lettering, two cold suns. How long will it take both to go through the distance from one another? If ever succeed.
thomas brinkmann
acheter/buy "when horses die"
costa music
écouter/listen
acheter/buy "lighter subjects"
bonus (youtube)
thomas brinkmann - it never was you
costa music - canary landscape
photo "when flowers die..." by zb