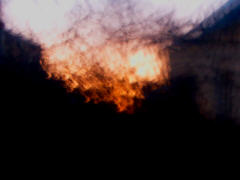 annelies monseré
one summer night
2005
annelies monseré & jessica bailiff
common ground
2008
(française version)
Il se trouve, à Gand, un homme, sur un toit juché, qui mesure le ciel. Gand est jumelé avec Saint Raphael, sud de la france, depuis 1958. Enfant, je passais les grandes vacances dans le sud de la france. C'étaient les années 70. J'avais huit peut-être neuf, cet été là. Ou sept.Haute, l'herbe des champs voisins n'avait pas encore été coupée. Là, deux petites filles de mon âge, neuf sept ou huit, apparaissant et disparaissant, les bras levés vers le ciel, dansaient. Appel de la nuit, célébration du jour qui s'éteint ou mesure du ciel, qui sait ? Le dernier papillon, elles, l'ont suivi.
(englikhtonian version)
There is, in Ghent, a man, perched on a roof, who measures the sky. Ghent is twinned with Saint Raphael, south of france, since 1958. Child, I spent summer holidays in the south of france. It was the seventies. I was eight maybe nine, this summer. Or seven. High, the grass of the neighbouring fields had not been cut off yet. There, nine seven or eight, appearing, vanishing, arms raised skyward, two small girls of my age were dancing. Night call, celebration of the disappearing day or measure of the skies, who knows ? The last butterfly, them, followed it.
jessica bailiff
jessica bailiff itw1 (silbermedia)
jessica bailiff itw 2 (and the world smiles at you)
ecouter/listen/
annelies monseré
ecouter/listen
acheter/buy "7"
acheter/buy "jessica bailiff & annelies monseré EP"
bonus (youtube)
jessica bailiff - mary
annelies monseré live in rome 2006
jessica bailiff & annelies monseré
photo "endovasummerdae" by ZB