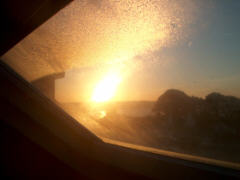 microblind harvestmen
hey mr railroad man
2007
(française version)
j'ai repensé au titre du billet d'hier soir. partir. s'oublier. partir pour s'oublier. partir et s'oublier. partir sans s'oublier. tout est envisageable. je veux dire. toutes les combinaisons sont possibles pour accéder au statut de fantôme. pour partir, j'ai pensé que ce train là, conduit par robert horton et hal hughes, ferait très bien l'affaire. d'autant que son trajet comprend quatorze stations.
de s'oublier à se perdre, le chemin est plus court.
(englikhtonian version)
I re-thought of yesterday evening post. leave. be forgotten. leave for being forgotten. leave and be forgotten. leave without being forgotten. everything is possible. high means, I mean. all combinations are possible to achieve in status of ghost. to leave, I thought that this train, driven by robert horton and hal hughes, would very madly fit and nicely. not to say its itinerary consists of fourteen stations.
from being forgotten to get lost, shorter 's the path.
microblind harvestmen
robert horton
itw robert horton (millefeuille)
acheter/buy "Songs & Instrumentals From Death Bottom Slide" (digitalis)
Digitalis a également lancé son offre automne-hiver de pré-commandes/pre orders. 8 disques/$100 (env.70€). Maurizio Bianchi, Theo Angell, Ilyas Ahmed, mudboy, steven r. smith, chriss sutherland et le sublimi-cultisssime Twinsistermoon digitalis preorder.
bonus
the mysterious world of the microblind harvestmen (by joe eaton in berkeley daily planet)
plus
ilyas ahmed live at the echo curio
photo "in the morning sun" by ZB
bon week end_!