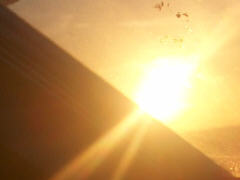 gardens from light
likho
2007
(française version)
Un matin. dimanche. ou une nuit. d'hiver. ou fin d'automne. un jour de la semaine. nuit ou brumes. printanières ? estivales ? vos yeux doivent s'habituer. de même vos oreilles. premiers sons, vos pas. sur la terre du chemin. ensuite méprise. battements de votre coeur. ou celui de la terre. pas celle du chemin. l'autre. la grande. l'immense. la sublime. qui finit par vous engloutir dans ses entrailles. tôt ou tard. vous ne savez pas.
plus tard. il y a du soleil. ou pas.
vous ne savez pas. vous n'êtes plus là. mais ailleurs.
(englikhtonian version)
A morning. sunday. or night. winter. or late autumn. a day. in the week. night or mist. spring? summer? your eyes have become accustomed. likewise your ears. first sounds, your steps. on the heavy earth of the road. then a mistake. your heartbeat. or heart of the earth. not from the path. another. the big. the huge. the sublime. which ends up gulping you down in its entrails. sooner or later.
you do not know.
later. there is sun. or not.
you do not know. you are no longer there. but elsewhere
gardens from light
écouter/listen
tl/dl "Birds of Joy and Sorrow""vol.1" & vol.2 (resting bell)
bonus (youtube)
marshlands (music by starving weirdos)
photo "light" by zb