let darkness enfold you on a summer day
Par ZB, (ghost) le mardi, 19 juin 2007, 15:05 - General - Lien permanent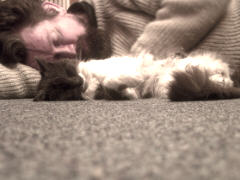 Nick Grey
rosary eyes
2007
(française version)
Sur les notes de la pochette, il est recommandé d'écouter ce disque (The candlelight eyes EP, Nick Grey) avant d'aller se coucher. Afin, sans doute, se préparer à cette obscurité où les yeux sont sans usage... Avec Miss Cat (cf photo), hier soir, nous avons testé avec succès. Sommeils paisibles. Obscurité bienveillante.
Bien... maintenant... désolé... j'dois y aller : un contre-test commence incessamment. Major Miss Cat, compte à rebours à 5, je vous prie !
5... 4...
D'obscurité, il est aussi question dans le numéro 64 du contrast podcast mais c'est en Antarctique que ça s'passe...
2...
(englikhtonian version)
"Please play this record before going to bed." That's what you can read in the liner notes. The best way to prepare yourself for this darkness you dive in. With Miss Cat (cf photo), we did the test last evening : it worked. Peaceful night over our heads. Well... now... sorry I must go... a countertest is about to begin. Major Miss Cat, countdown to 5, please !
5... 4...
Darkness and Antarctica are on Contrast Podcast 064 !
2...
nick grey
écouter/listen
achete/buy "the candlelight ep"
et pendant qu'y serez, les yeux fermés, offrez vous la totalité du catalogue Barl Fire !
& while there you'll be, with closed eyes, buy the whole Barl Fire's catalog !
bonus youtube
230 divisadero - porte à faux
tex la homa - look up to the horizon
tex la homa's website
eyeless in gaza - new risen
image : "listening test" by zb