mirror speaks unexpected tale
Par ZB, (ghost) le jeudi, 7 juin 2007, 15:12 - General - Lien permanent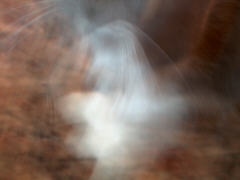 delphine dora & the unexpected
something about the world
2007
(française version)
A quelques jours de ça, j'avais commencé à écrire un billet genre : "Delphine Dora, adorable et délicieuse, a un nouveau disque. Sur greed recordings. Accompagnée par The Unexpected. Qui sont Valérie Leclercq et Jullian Angel. 22 chansons. Vignettes. Impressions.Il s'appelle We're all of this..." Après ? le papier est un peu froissé, et comme c'était au crayon gris, la suite est illisible. Alors ? il ne reste désormais que "Il s'appelle We're all of this". Nous sommes tout cela. Tout cela quoi ? je me suis demandé. Les vingt deux titres ? Un puzzle intime en 22 pièces? Vingt deux. Deux deux. Comme nous. Toi et moi. Moi et toi. Nous sommes doubles et quand nous dormons, nos jumeaux étouffés dans le miroir prennent souvent leur liberté, désertent l'espace de notre réflexion pour d'autres lieux, quelque part là-bas, en bordure d'horizon. A notre réveil, devant nous, de retour et muets, ils en rêvent. S'y préparent. Inspirent. Expirent. Expirent. Trois temps Une valse.. Alors ? alors tout cela quoi ? La vie. La réponse était la vie.
(englikhtonian version)
Some days ago, I'd begun writing a post like : " Delphine Dora, adorable and delightful, has a new record. On greed recordings. Accompanied by The Unexpected. Who are Valérie Leclercq and Jullian Angel. 22 songs. Vignettes. Impressions. Its name is We're all of this..." Afterwards? paper is a bit crumpled, and as it was in the grey pencil written, suite is unreadable. Then? there only remains "its name is We're all of this ". We are all of what ? The twenty two tracks ? An intimate puzzle in 22 parts ? Twenty two. Two two. As we. You and me. Me and you. We are double and when we sleep, our choked twins in the mirror often take their freedom, they desert the space of our reflection for other places, someplace over there, next to skyline. On our waking, in front of us, back and mutes, they dream about it. Prepare, get ready. Inspire. Expire. Expire. Three times. A waltz. Then ? then what? Life. Life was the answer.
delphine dora
écouter/listen
acheter/buy "we're all of this"
half asleep ''(valerie leclercq)
jullian angel
bonus (youtube&dailymotion)
half asleep - un quart
jullian angel & lippie & my north eye
image "o mirror, mirror" by zb