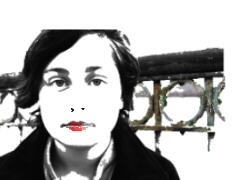 liz isenberg
but their mouths were so pretty
2006
(française version)
Bien sûr, notre fragilité s'incarne dans les fleurs, les libellules et les papillons. Comme sa suivante, la seconde qui passe s'attache à celle qu'elle vient de remplacer. Nous disons Temps et la course est solide.
En quatrième de couverture de mon exemplaire de poche du "coeur est un chasseur solitaire" (Carson McCullers), la dernière phrase me dit "elle avait vingt deux ans quand elle publia ce premier livre, qui est sans doute son chef d'oeuvre". Liz Isenberg a vingt et un ans. "Seeport, seaport, seeport" est son premier disque. Compris ?
(englikhtonian version)
Of course, our human frailty is embodied in flowers, dragons and butterflies As its following, a second that flies has ties with the one that just died. We call it Time and the course is strong.
In the notes from the back cover of my pocket edition of "heart is a lonely hunter" (Carson McCullers), the last words read : "she was 22 when she published this first novel, which is a masterpiece." Liz Isenberg is 21. Seeport, seaport, seeport is her first full length. Understood ?
liz isenberg
itw at indie folk forever
écouter/listen
acheter/buy "seeport, seaport, seeport" (leisure class records)
bonus (youtube)
liz isenberg -I miss the way you draw birds live
image "lisa alice liz"