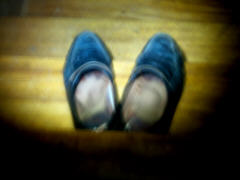 the tall boy
outside
2006
Paleo's diary : one song, each day
some dahlia
(française version)
Ne m'en étais pas encore aperçu.
"Ils" fabriquent désormais des gouttes d'eau à peine plus grosses mais au pouvoir couvrant étendu. Ainsi une goutte d'eau d'aujourd'hui mouille une surface qui nécessiterait deux voire trois gouttes d'autrefois. L'ai constaté par moi-même. Hier soir. A la nuit. Sous la pluie. Quand suis sorti marcher hors de chez moi afin de mettre à jour mes impressions nocturnes de l'autumne dernier. Dans mon lecteur cd, j'avais emporté "Go forth", un EP 7 titres de The Tall Boy, quatuor basé à Glasgow, EP sorti au printemps, cette année, chez Banazan. A qui d'ailleurs je devais l'idée même de cette virée nocturne. C'est dans la chanson Outside que ça s'est passé : "sometimes I forget just how the outside really is'' m'y ayant plus ou moins poussé... dehors.
(englikhtonian version)
Haven't realised it yet.
Nowadays, "Them" are manufacturing raindrops that are merely of the same size the old fashioned ones BUT those new raindrops are covering a bigger surface. It's as if one raindrop of today equals two or even three of the old time. I noted it by myself. Yesterday evening. In the night. Under the rain. When I walked outside to update my last year's autumnal night impressions. In my cd player, I had taken "Go forth", a 7 tracks EP by The Tall Boy, a four pieces band from Glasgow, EP released last spring on Banazan. This idea of a walk in the night had come from a line of the song "Outside" : "sometimes I forget just how the outside really is''...
the tall boy
écouter/listen
"effect" free download
acheter/buy "go forth"
bonus
the june brides - in the rain
BMX Bandits -wonderful world (youtube)