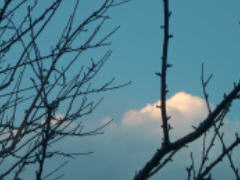 tissø lake
I am like a lake
2006
Paleo's diary : one song, each day
the boat of being alive

Eric Metronome's project : 52 weeks, 52 covers
the way I feel inside
(original by the zombies)
+ Eric Metronome's new album, "You Should Be Happy," out on october 31st (sunken treasure).
(française version)
Les vieilles maisons craquent. De partout.
Deux heures du matin. Réveillé par une voiture qui passe dans la rue, je reste à observer la façon dont la lumière combat l'obscurité de la pièce à travers le volet mi-clos. Dans le couloir qui mène à la cuisine, le silence revenu, se glissent les pas feutrés de ma collaboratrice Miss Cat qui, nuitamment, s'est levée pour s'envoyer sa ration de croquettes. Bientôt je les entendrais craquer sous ses crocs. Moi aussi, je me lève, erre dans la pièce et croise Miss Cat de retour de sa razzia nocturne. Elle saute, s'installe dans son fauteuil et me jette ce regard de tendresse et compassion mêlées. Allongé sur le tapis, mes yeux dans les siens, je suis une chanson de tissø lake.
Plus tard, en me relevant, je lui murmurerai : "Promis, demain je te joue "Cast away the clouds" de Rose Melberg." C'est sa chanson préférée semble-t-il.
(englikhtonian version)
The old houses crack. Everywhere.
In my bed, awaked by a car passing in the street, I observe the way the light fights the darkness in the room through the half-closed shutter. Into the corridor which carries out to the kitchen, in the new silence, slip the felted steps of my collaborator Miss Cat who nocturnly rose to eat some croquettes. Soon I would hear them crack under her fangs. Finally, I rise, wander in the part and cross Miss Cat who comes back from her night raid. She jumps, settles in her armchair and throws me this melted glance of tenderness and compassion. Laid on the carpet, my eyes in hers, I am a Tissø Lake's song.
Later, while she seems to deeply sleep, I'll murmur to her : "I promise ! tomorrow I'll play you Rose Melberg's "Cast away the clouds "." Her preferred song as it seems .
tissø lake
(don't miss - downloadable on his website - the beautiful WMBR live session)
listen/écouter
acheter/buy "the hollow wood and wondrous cold"