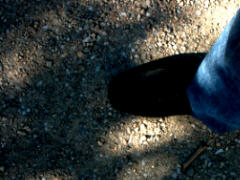 nancy sinatra
lee hazlewood
down from dover
1972
Paleo's diary : one song, each day
there were signs
Comme tout le monde ou presque
je vais essayer de faire coller mes billets à l'actualité la plus brûlante, c'est à dire la coupe du monde. Enfin c'est ce que je me suis dit ce matin...Depuis, j'ai réfléchi : sous quel angle d'attaque non exploité ? la musique des pays participants ? non ! déjà pris. la coupe de cheveux des gardiens de but contre celle des batteurs ? hé ho ! on s'calme. Finalement, comme souvent, la solution se trouvait toute proche et s'il n'y avait pas ce bosquet d'arbres, chaque fois que je lève la tête de mon clavier, je l'aurais sous le nez ou devant les yeux. La solution, pas mon clavier, et elle prend la forme d'un arrêt de bus où, en cette période, défilent toutes les nations ou presque qui, soit descendent du bus pour se rendre à la plage, soit z'y montent car z'en reviennent. Donc, chaque jour, pendant la durée de l'épreuve, j'irais glaner les sujets des billets futurs à cet arrêt. Hum...
Aujourd'hui donc
m'y suis rendu et comme le soleil tapait déjà pas mal me suis assis à l'ombre et sur le coup de 14h, un couple, du bus, est descendu. Lui était brun, coupe au bol ou presque, une petite moustache tombante barrait son visage tandis qu'elle, qui l'accompagnait puisqu'une fois descendus, la taille lui entourait de son bras droit, était blonde, avec de grands yeux élargis par le maquillage.
...wow, Nancy et Lee, que j'fais entre mes dents
t'veux dire Sid et Nancy qu'il m'fait l'voisin à l'arrêt
nan qu'je dis Nancy et Lee ! l'Sid l'avait pas d'moustache à qu'je sache...!
A ce moment
je choisis de l'abandonner à son sort pour errer dans les couloirs de mes pensées. Avec ma veine, j'tombe sur une en rapport avec c'que je viens de vivre. Marrant mais dès qu'un type à la voix z'un peu grave chante 'vec une à la voix plutôt gracile, ça loupe pas : Nancy et Lee...et j'y coupe pas...dans l'casque passe Smashing Orange, leur album 1991,qu'j'ai choisi de réécouter à cause d'un mail reçu des Sky drops. Les Sky Drops c'est Monika Bullette de Bullette et ses Secrets de l'année passée et Rob Montejo de Smashing Orange. Ils ont un EP, Clouds of people, qui sort dans l'mois tandis qu'sur leur site on peut télécharger la double face A de leur simple : Now Would Be/Green to Red. Leur musique est une intéressante combinaison entre Jesus and Marychain, Ride et My Bloody Valentine. Ce qui nous ramène à 1991. L'année mais surtout l'album des Smashing Orange. Et Lee et Nancy où sont ils passés ? La réponse est dans le vent et sa radio : "Any further, it's all over"
(englikhtonian version)
Like everyone, I will try to make my posts stick to the most extreme topicality, i.e. zee world cup. Finally it's what I told myself this morning...Since then, I thought : under which angle of attack not exploited ? music of the participating countries ? not ! already taken. Haircut of the goalkeepers versus the drummers one ? Hey ho...quiet yourself ! Like often, the solution was near and if there were not this thicket of trees, each time I raise the head of my keyboard, I would have it under my nose or in front of the eyes. The solution, not my keyboard, and it takes the form of a bus stop where, in this season, you'll find almost all the nations which, either go down from the bus to the beach, or z'take the bus to return from there. Therefore, each day, throughout the cup, I would go fishing the subjects of my future posts to this stop.Hum...
Today, as the sun already was high in the sky, I sat myself there in the shade and when fourteen rang, a couple came down out of the bus. He wore a brown bowl haircut, a small falling moustache barring his face while, blonde hair and large eyes widened by the make-up was she, who accompanied him since once gone down, he seized her round the waist with his right arm.
...wow Nancy and Lee, I whistle
...er..y'mean Sid and Nancy, my neighbour stops me !
nooope, I reply...Nancy and Lee ! where d'you see Moustacho Sid ?
That's the moment
I choose to leave him alone with his fate to wander about in the corridors of my thoughts. With my luck, I fall on one in connection with what I've just lived. Funny but as soon as a type with a low voice sings with the gracile voice of a young woman share your fire with us...Nancy and Lee of course...sure enough...and I don't get out of it...in my headphones, Smashing Orange plays their 1991 album I chose to listen again because of a mail received from The Sky Drops. The Sky Drops are Monika Bullette from Bullette of last year's delightful "Secrets" and Smashing Orange's Rob Montejo. They release "Clouds of people" end of this month while on their website you can d/l the double a side : Now Would Be/Green to Red. They play an interesting mix of Jesus and Marychain, Ride and My Bloody Valentine. That brings us back in 1991. The year and Smashing Orange. But..but...but where are Nancy and Lee now ? The answer is in the wind and its radio : "any further, it's all over".
smashing orange
acheter/buy 1991
bullette
téléch/dl "Secrets"
the sky drops
écouter/listen
bon week end !