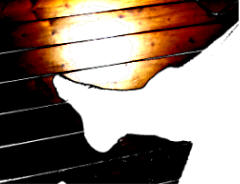 icicle works
love is a wonderful colour
1983
Paleo's diary : one song, each day
an arrangement in 7/8

Au moment
où j'écris ces lignes, deux matches seulement ont été joués et pour l'analyse de qui va la gagner cette coupe en fonction de la couleur des drapeaux ou des maillots on repassera puisque l'Allemagne en blanc a gagné mais la Pologne non. Et que les équipes des pays à drapeaux à bande verticale ne sont pas encore entrés dans la course au titre... A mon arrêt de bus, il y avait un couple de suédois âgés qui cherchait un endroit où déjeuner tranquillement avec la mer au bout des yeux...
(englikhtonian version)
When
I write these lines, only two matches were played and for the analysis of who will gain this cup, according to the color of the flags or the players shirts, no one can tell since Germany, in white, won but Poland not. And you must add that fact : the teams of the countries with vertical bands flags didn't enter the race to the title yet...So wait and see... At my bus stop, there was an old Swedish couple who sought a place where to lunch quietly with the sea at the end of their eyes...
bonus
the charade - dressed in yellow and blue (youtube)
icicle works
acheter/buy "best of"
the charade
acheter/buy "real life drama"