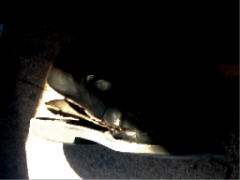 mecca normal
days
1992
Poing.
Coups de poing
Ces mots reviennent souvent à l'esprit à l'écoute du premier album de Valier. Les coups de poing, ceux que l'on donne et ceux que l'on reçoit.
Au propre.
Comme au figuré.

(englikhtonian version)
Fist
Fisticuffs.
These words come to mind when listening to Valier's debut album.
Those which one gives and those which one receives.
Literally and figurative.

acheter/buy "valier"
(6 titres sur 15 vous attendent...goûtez y et achetez le cd)
(6/15 tracks wait there for you...listen 'em and buy th'cd)
mecca normal
voir/watch "Attraction is ephemeral"
acheter/buy "jarred up"

annonce concert
si z'êtes sur Paris, samedi prochain, 22 avril
chimères
krisha
pixel
La Scène Bastille
2bis rue des Taillandiers, PARIS 11è
(prix: 12 euros)
quoi d'autre ?
what else ?
oh yes !
Allez lire/Read Rockomondo !