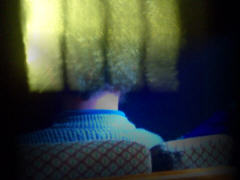 pink reason
dead end
2007
(française version)
Cet après-midi, j'ai fait écouter à Alice, ''Cleaning the mirror", l'album de Pink Reason. "Tiens ! elle a dit, la première chanson s'appelle goodbye" puis elle s'est tue. Quand je me suis levé pour tourner le disque, elle n'a rien dit pour combler le silence et occuper l'espace. Juste, elle a remonté le col de son pull par dessus ses lèvres. Le disque a repris son envol plombé. A la fin, elle s'est levée. En silence. A marché dans la pièce. Toujours silencieuse. A regardé par la fenêtre, s'est tournée vers moi et d'un ton qu'elle voulait alerte, elle a parlé. "Ce morceau, qui ouvre la deuxième face, on dirait du Joy Division, à qui ne resterait que la peau et les os. La peau sur les os. Décharné. Même l'âme est en train de prendre le large."
(englikhtonian version)
In the afternoon, I made listen to Alice, "Cleaning the mirror", Pink Reason's album. "Look ! she said, the first song is called goodbye" then she remained silent. When I got up to turn the disc, she didn't say anything to fill up silence and occupy the space. Simply went up the collar of her sweater over her lips. The disc took up its loaded leaded takeoff again. At the end, she rose. In silence. Walked in the room. Always silent. Looked by the window, turned to me and with a voice that she wanted sprightly, she spoke. "This song, opening the b side, one would say it sounds as a Joy Division to whom would only remain the skin and bones. The skin on bones. Emaciated. The jagged soul itself is sailing away."
pink reason
écouter/listen
acheter/buy "cleaning the mirror"
bonus (youtube)
pink reason - live at Barely Standing, Milwaukee
(thanks to americancheesevideo).
+ oLIVes oU pancAKEs ? peut-être les deux. C'est une compilation I hate music. Là
image "o night my mirror" by zb