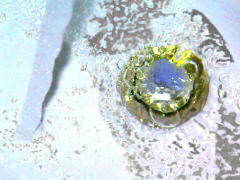 blues control
end zone
2007
(française version)
J'ai eu envie de ce grand écart-là. Du blues domestique au blues spatial. (Cosmique). Qui vadrouille dans de si lointaines, si proches galaxies à la recherche de son carrefour sans perdre, jamais, de vue les quatre éléments qui le composent : terre, air, feu, eau. Contrôle. Dans un seul souffle, tout s'évanouit. Les nuages, les vagues. La flamme. L'homme. Fin.
(englikhtonian version)
I wished this big distance. Domestic blues, space blues. (Cosmic). Which wanders, so faraway, so close, in galaxies, in search of a crossroad of its own, without losing, never, the four elements which compose it : earth, air, fire, water. Control. In a short single breath, everything faints. Clouds, waves. The flame. The man. The end.
blues control
listen/écouter
acheter/buy "puff"

bonus (youtube)
blues control live at big jar books
(thanks to tombubul)
image "blued soul matter" by ZB