Pour en finir avec l'obscurité
Par ZB, (ghost) le vendredi, 22 juin 2007, 15:45 - General - Lien permanent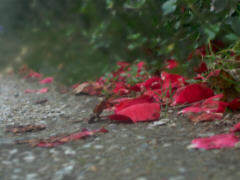 the north sea
children of the ashes
2007
(française version)
Fatigué, je ferme les yeux et imagine un coin secret de mon cerveau qui ne serait qu'absence de lumière. Elle est entrée, portée par un rayon de soleil chargé de poussières, les bras chargés de lumière. A laissé l'obscurité derrière elle.
(englikhtonian version)
Tired, I close my eyes and imagine, in my brain, a secret corner which would be only absence of light. She entered, carried away by a sunbeam loaded with dusts, her arms lightly full of light. She left darkness behind.
the north sea
écoutez/listen
acheter/buy "exquisite idols"
bonus
matthew woodson's blog I, II et III

photo "remnants of an army of roses" by ZB
bon week end_!