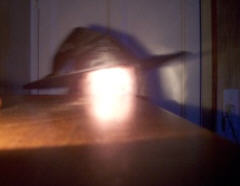 slapp happy
some questions about hats
1975

...rien
Sur l'écran, il n'y avait rien. Parce que suis arrivé une demi seconde trop tard. Ai juste vu son épaule quitter le champ. Retournons au parc où l'herbe et les gravillons sont mouillés. Peut être faut il que je m'attarde un peu sur cette idée de "retournons au parc" dans la mesure où n'êtes pas au courant qu'y suis passé un peu plus tôt.
Dans la matinée.
D'hier.
L'ai traversé pour aller chez mon disquaire avec l'intention d'acheter "Fear is on our side" d'I love you but I've chosen darkness. A ce moment là, il n'avait pas encore plu. Tandis qu'aujourd'hui...A propos de la pluie qu'il n'y a pas eu hier, j'ai trouvé un éventuel témoin. Hein ? voui bon, comme il pleuvait, j'ai fini par rentrer. A peine ai je ouvert la porte qu'elle me lance :
"Hey, j'ai fouillé et j'ai retrouvé ton desperate straights. Il était rangé à la lettre h"
A la lettre H ? Happy comme nom de famille ? ou à cause d'Henry Cow ?
"ouais mais non si c'était Cow, c'est à la lettre C qu'il aurait été rangé non ?"
Peut être est il temps d'opter pour un classement chronologique et alphabétiquement par titre d'album.
Ou alors, tu tires au sort leur ordre après avoir mis les noms dans un chapeau...
(englikhtonian version)
...nothing.
On the screen, there was nothing.Because I arrived a half second too late. I just saw his shoulder leaving the screenfield forever. Let's go back to the park where the grass and the fine gravels are wet. Maybe I should develop the "let's go back to the park" idea. Because you don't know I passed there a little earlier.
In the morning.
Yesterday.
When I went to my record shop to buy "fear is on our side". At that time, it hadn't rained yet. While today...In connection with the rain that was not there yesterday, I've got a possible witness. What ? Ok. As it rained, I ended up returning home. Hardly I opened the door that she starts : "Hey, I searched and I found your desperate straights. It was stored with the letter h." Letter H ? Happy, a surname? or because of Henry Cow ?
"yep but no ! she says, if it were because of Cow, it's with the letter C that it would have been stored or not ?"
Maybe it's time for a chronological classification, I think. And by alphabetical titles.
"you can also draw lots in a hat..."
henry cow/slapp happy "desperate straights"
acheter/buy "desperate straights"
A noter :
Jason Webley à Paris,
le 28 mars prochain au Kitch Up à 21h00 ! (39 bvd Clichy)
le 29 mars au Divan Du monde à 20h
bon week end !