Beru - Root like arms for mending from Ben Spiegelman on Vimeo.

J'ai croisé une première fois la route de Beru fin 2007 via le netlabel Birdsong mais ce n'est qu'en 2009, avec sa cassette "what would I do without you" (c/thor's rubber hammer), que j'ai été emporté, décidé à suivre tout ce que la jeune femme transformerait en or sonore. Elle a, aujourd'hui, accepté de répondre aux quatre questions du Vent.
I've musically met Beru's works in late 2007 via the netlabel Birdsong and, in 2009, I was blown away by her tape "what would I do without you" (c/thor's rubber hammer) & decided to follow everything that the young woman would turn into golden sound. She has now agreed to answer four questions in the Wind.
1. do you remember your first musical emotion ?

When I was five years old, my family and I were leaving our house, and moving to a new one. As we were leaving, I remember sitting in the back seat looking out at my neighborhood for the last time, and Billy Joel's "The Longest Time" came on the radio. I was filled with a sadness that I couldn't understand, and a nostalgia for a time that I never experienced. Almost like I had a past life of being a teenager in the 1950's, and was in love, and I had just lost all of it. It made me cry, but quietly, so my parents wouldn't hear.

2. how did you first get involved in music ?

My father was an accomplished musician, who was always playing his guitar, and sharing his favorite records with us. My brother and sister and I would always record our songs on tapes, and then later on our digital recorders, and we would also sing and play instruments at church twice a week. It was never a choice to be interested in music, it was passed down to me almost like a genetic trait. It was always so natural to express my heart through music. .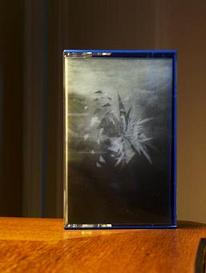 What would I do without you by Beru ht.buy

3. could you tell us a bit about your influences and musical tastes ?

My music is influenced by other musicians, as well as artists in different fields, specifically film, and film makers who pay attention to sound design, such as David Lynch, Terrence Malick, and Lynne Ramsay. The song "Nights In White Satin" by the Moody Blues influenced me a lot as a child with it's complicated structure, and ability to change and morph into different emotions within itself. When I was a teenager I had the amazing opportunity to see Loren Connors, Tony Conrad, and Rhys Chatham all in one night, and it blew my mind. I had studied, and learned about minimal composers, but being able to see them at work in front of my own eyes made my heart burst with possibility. My current favorites are Keiji Haino, Sunn 0))), Current 93, Prurient, Native American music, John Maus, Scott Walker, and Julee Cruise.
4. do you have a 'bedside record', sort of the one you're never tired to listen again and again ?

This is a small list of albums that I have had on repeat for most of my life:
Chris Isaak "Heart Shaped World"
Yes "Fragile"
Dolly Parton "Greatest Hits"
Zita Soundtrack
Richard Harris "Tramp Shining"
Neil Young "Harvest Moon"
BERU/AdamBeckley Split by BERU

Beru (website) (facebook) (bandcamp) (beru at birdsong) (early works)
Beru's lovemix (a musical answer to question 3) (mf)

1. te souviens-tu de ta première émotion musicale ?

Quand j'avais cinq ans, ma famille et moi quittions notre maison pour une nouvelle. Alors que nous partions, je me revois, assise sur la banquette arrière, regardant mon quartier pour la dernière fois. "The Longest Time" de Billy Joel passait à la radio. J'ai été envahie par une tristesse que je ne pouvais comprendre. La nostalgie d'une époque que je n'ai jamais connue. Un peu comme si j'avais eu une vie antérieure d'adolescente amoureuse dans les années 1950 et que je venais de perdre tout cela. J'ai pleuré, doucement, de sorte que mes parents ne puissent pas entendre.

2. comment es-tu venue à la musique ?

Mon père était un musicien accompli. Il jouait souvent de la guitare et partageait ses disques préférés avec nous. Mon frère, ma sœur et moi, nous enregistrions toujours nos chansons sur cassettes, plus tard sur nos enregistreurs numériques, et nous chantions et jouions aussi deux fois par semaine à l'église. M'intéresser à la musique n'a jamais été une question de choix, ça m'a été transmis presque génétiquement. Cela m'a toujours été très naturel d'exprimer mes émotions au travers de la musique.
Earth Is The Right Place For Love by BERU

3.peux tu nous en dire un peu sur tes influences et tes goûts en matière de musique ?

Ma musique est influencée par d'autres musiciens, mais aussi par des artistes venant d'autres horizons, je pense au cinéma, et notamment à des cinéastes qui portent une attention particulière à la conception sonore, tels que David Lynch, Terrence Malick, et Lynne Ramsay. La chanson "Nights In White Satin" des Moody Blues m'a beaucoup influencée, enfant, avec sa complexité et cette capacité de changer et se transformer en différentes émotions à l'intérieur même de sa structure. Quand j'étais adolescente, j'ai eu l'occasion incroyable de voir Loren Connors, Tony Conrad, et Rhys Chatham, la même nuit, tous les trois, ce fut une immense claque. J'avais étudié les compositeurs minimalistes, mais l'opportunité de les voir à l'œuvre de mes propres yeux a ouvert en moi le champ des possibles. En ce moment, mes favoris sont Keiji Haino, Sunn 0))), Current 93, Prurient, la musique amérindienne, John Maus, Scott Walker, et Julee Cruise.

4. as tu un 'disque de chevet', le genre que tu écoutes encore et encore ?

Voici une petite liste d'albums que j'ai souvent réécouté ces dernières années :
Chris Isaak "Heart Shaped World"
Yes "Fragile"
Dolly Parton "Greatest Hits"
Zita Soundtrack
Richard Harris "Tramp Shining"
Neil Young "Harvest Moon".