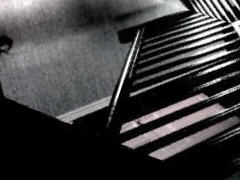 victor scott
fortune favours the brave
2007
(française version)
Dans sa 84ème sortie hebdomadaire, le Contrast Podcast propose le 7ème episode de "les artistes présentent eux-mêmes leur chanson". Ce qui tombe à point puisque, ces jours-ci, mes oreilles ont rencontré, de fort plaisante manière, plusieurs des ouvrages produits par des artistes souvent découverts à cette occasion.
Entrée, Wojtek Godzisz sort un nouvel ep "the moon and the yew tree". Le fait que l'un des morceaux fasse l'ouverture du prochain So the Wind podcast devrait suffire à vous faire comprendre tout le bien que j'en pense.
Plat de résistance, Linfinity qui , avec le merveilleux "live at marcata:demos", a déjà donné lieu, ici même, à un billet mais le rappeler ne peut pas faire de mal. Alors, ça s'passait là.
Enfin, dessert, du sucré, du rythmé, les titre et pochette du nouvel album de Victor Scott annoncent eux-même la couleur : good times.
Et maintenant, chantez après moi...
Here comes Victor Scott again...
(englikhtonian version)
In its 84th weekly outlet, Contrast Podcast offers the 7th episode of " the artists introduce themselves their song ". What falls perfectly in time since, these days, my ears met, in a very pleasant way, some of the new works produced by artists often discovered in this occasion.
To start with, there is Wojtek Godzisz who releases a new ep " the moon and the yew tree ". The fact that one of the songs makes the opening of next So the Wind podcast should be enough to make, all of you, understand how excellent I think it is.
Linfinity who, with the wonderful "live at marcata: demos", has already given rise here in a post but, to recall can not hurt. So it was there. (check the post title... yep... see y'get the point).
Finally, dessert, with sweet, with rhythm, the title and cover of Victor Scott's new album announce the colour themselves: good times.
And now, sing after me...
"Here comes Victor Scott again..."
wojtek godzisz
linfinity
et
victor scott
bonus (youtube)
linfinity - companero
wojtek godzisz - the moon and the yew tree
victor scott - fortune favours the brave
et... cerise sur le gâteau/icing on the cake

image : "wh.it.egr.e.ybl.a.ckra.ys" by zb