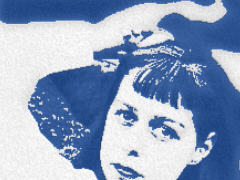 grayson capps
washboard lisa
2005
(française version)
En voyant, l'autre nuit, le film "Love song", me suis aperçu que n'avais jamais lu "le coeur est un chasseur solitaire" de Carson McCullers. Lacune que je m'emploie ces jours-ci à combler.
Je ne connaissais pas Grayson Capps qui assure l'essentiel de la bande-son et, à l'occasion, peut être aperçu en plusieurs scènes du film. (Pour la petite histoire, son père est l'auteur d'Off magazine street, le roman qui a servi de base au scénario de "Love song".)
Quant à Washboard Lisa, bien qu'inconnue, je dois dire qu'elle ne m'est pas tout à fait étrangère. La silhouette m'est familière et la ligne mélodique me fournit quelques indices qui font galoper mon imagination. Je la vois fille de cette femme, tu sais, à Bâton Rouge, qui chantait le blues et qu'on a revue à La Nouvelle-Orléans. Qui sait ce qu'elle est devenue ?... ou... peut-être... non... non ? serait-ce... elle-même ! qui aurait décidé, pour une raison ou une autre, l'âge par exemple, d'abandonner son prénom d'mec et d'opter pour son second prénom. T'sais Bobby Lisa McGee...
(englikhtonian version)
By seeing, the other night, the movie, "A love song for Bobby Long", realized that I had never read "the heart is a lonely hunter" by Carson McCullers. I'm spending my time these days in filling up this lacuna.
I did not know Grayson Capps who ensures the main part of the score and can be seen in several scenes of the movie. (His father is the author of Off magazine street, the novel used as the basis for a script for A Love Song for Bobby Long,)
As for Washboard Lisa, though unknown, I must say that she is not an wholly stranger to me. Her silhouette and melodic lines are familiar to me and provide me some indications which make my imagination run far and fast. ...See her as the daughter of this woman, y'know, in Bâton rouge, who sang the blues and that we saw again in New-Orléans. Who knows what she became... or... maybe... no... no ? would it be... can it be ? no ? Herself ! who would have decided, for one reason or another, age or else, to leave her guy's forename and to opt for her second one. Y'know, Bobby Lisa McGee...
In Contrast Podcast 058 songs quote others songs or bands...

grayson capps
listen/écouter
acheter/buy "if you knew my mind"
acheter/buy "love song" (dvd)
acheter/buy "a love song for bobby long" (b.o.f.)
carson mccullers
acheter "le coeur est un chasseur solitaire"
buy "the heart is a lonely hunter"
bonus youtube
malvasio - me and bobby mcgee
trespassers william - different star live
johnny cash - me and bobby mcgee
image : "bobby lisa carson alice mcgee"