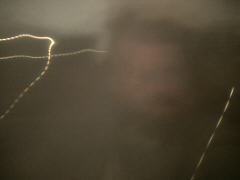 steven r.smith
across the flats
2007
richard youngs
low bay of sky
2007
(française version)
Puisque nous sommes plongés dans les plates ténèbres, comment savoir si le monde, celui que nous connaissons, n'est pas autre chose qu'un rêve collectif. Chez Richard Youngs, l'automne répond : "J'ai besoin de lumière..."
Naïve lumière qui viendra, tôt, menacer nos fragiles illusions. Qui vacilleront mais notre dernière heure n'étant pas venue, ensembel, nous établirons, dans cette lumière, pleine, de nouvelles visions du monde que viendra, plus tard, menacer une obscurité croissante.
(englikhtonian version)
Since we are immersed in flat darkness, how do we know that the world, the one that we know, is not anything else than a collective dream. With Richard Youngs, Fall replied: "I need light ..."
Naïve and innocent, the light that will come, early, to threaten our fragile illusions. Which will stagger but our last hour is not coming and together, we establish, in this light, full, new visions of the world that a growing darkness would, later, threaten.
steven r. smith
acheter/buy "owl"
richard youngs
listen/écouter
acheter/buy "autumn response" (jagjaguwar)

bonus (youtube)
we wait for the snow
david fenech - crying for nothing
image "str.o.li. da.m.o II" by ZB
bon week end_!