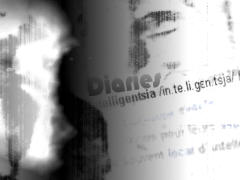 the televangelist and the architect
the unconscious collective
(a tale from williamsburg)
2006
Paleo's diary : one song, each day
ready to leap
(française version)
Il n'y a pas de décalcomanie du drapeau ikhtone parce que l'Ikhtonie n'a toujours pas de drapeau. Nous savons qu'il sera bleu. Pour l'hymne, nous hésitons encore entre "Surfin bird" et "Instant Karma". Tous les referendums organisés n'ont pu départager, à ce jour, l'une ou l'autre de ces chansons. Peut être devrions nous en choisir une autre. Nous avons un président dont vous pouvez entendre la voix dans le nouvel épisode, le vingt septième du Contrast Podcast. (Nous remercions notre interprète : Mr C.S Chaplin)
Pour l'hymne, peut être devrions nous demander à Tim Young (son groupe s'appelle Cut) de nous en composer un, tout spécialement...
(englikhtonian version)
There is no transfer of the ikhtonian flag because Ikhtonia still does not have a flag. We know that it will be blue. Our anthem ? we still hesitate between "Surfin' bird" and "Instant Karma". All the organized referendums could not decide between one or the other of these songs. Maybe we should choose another song. We have a president. You can hear his voice in the Contrast Podcast's new episode, the twenty seventh. (Here, we want to thank our interpreter : Mr C.S. Chaplin).
'bout our anthem, maybe we should ask Tim Young (his band's name is Cut) to compose it...especially for us.
the televangelist and the architect
listen/écouter '(link fixed)
acheter/buy leurs disques
acheter/buy Paleo's Misery Missouri
bonus
54 seconds - ben's letter
Listen to "Dirty little secrets", their new song from their upcoming cd "Postcards From California".