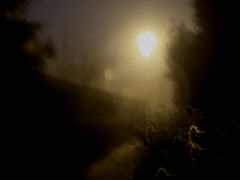 elm
fog water shroud
2008
the big eyes family players
leave your memories in the past
2008
(française version)
Pour rentrer, j'ai pris le train. Je me tais. Aphone. Vaincu par le froid et l'humidité. Je regarde l'obscurité et les brumes dissiper les souvenirs attachés aux paysages traversés.
(englikhtonian version)
To come back, I took the train. Silently. Voiceless. Defeated by the cold and damp. I watch, darkness and fog dispelling memories, tied to the crossed landscapes.
elm
ecouter/listen
désolé épuisé/sorry sold out ou try somewhere
the big eyes family players
ecouter/listen
acheter/buy "donkeysongs" ou rusted rail
photo by ZB