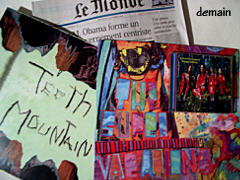 teeth mountain
keinsein
2008
super vacations
endless bummer
2008
velvet davenport
satin
2008
(française version)
Mû par une envie irrésistible, j'ai, dans l'après midi, acheté les nouveaux cds de Byrne et Jones. Des disques confortables puisqu'aussitôt glissés dans le lecteur, pour l'un comme pour l'autre, l'ameublement de la pièce a changé : sont apparus un canapé cuir profond, une cheminée livrée avec son feu de bois,
une moquette comme un duvet (voire une couette en peaux de bête),
des verres et leur bouteille de (whisky, cognac, champagne : rayez selon votre goût). Dehors, la tempête. Avec deux coups de tonnerre en guise de rossignols sous balcon.
"On n'est pas sérieux quand on a dix sept..." dix-huit. Que multiplient deux et demi. Ce sont des moments où, se dit-on, il serait bon de se prendre un bon psycho-drone dans nos dents de faux montagnards. J'ai, alors, repris les disques haut en couleurs de chez shdwply records (2 vinyls, 1cd), reçus en début de semaine. Le dernier, d'entrée, envoie sur une fausse piste avec sa pochette très "slits cut" (sans la boue). Ses vraies sonorités pastelliennes, on ne les découvre qu'à l'écoute, cachées sous ses allures psyché'. Au milieu, se trouvent les Super Vacations, pochette explosive et colorée, morceaux courts, très courts. Bingo ! soyons réalistes ! parfois, ce qu'on a à dire ne nécessite pas d'occuper huit minutes. C'est dit.
Label recommandé. Voire plus.
(englikhtonian version)
Driven by an irresistible move, I, in the afternoon, new Byrne's and Jones' cds bought. Those are comfortable records since, as soon as slipped into the player, for one as for the other, the furniture of the room changed : appeared a deep leather chesterfield, a fireplace delivered with its natural wooden fire,
a moquette as down sleep bag (or continental quilt in animal skin),
some glasses and their bottle (whiskey, cognac, champagne: delete where inapplicable according to your taste). Outside, the storm. With two peals of thunder as of nightingales on a balcony.
"They are not serious when them have seventeen..." ...eighteen years. Two and a half multiplied. These are instants when, as it is said, it would be good to be struck in our teeth of wrong mountain dwellers by a nice psycho-drone. I took back, then, records, with bright colours, from shdwply records (2vinyls 1cd,), received, beginning of the week. The last, first, sends you on a wrong track with its very "slits cut" cover (without muck) To find its true pastels-like tones hidden under psyched tints, you must - and it's a real must, golden - hear it more than once or twice. In the middle we've got The Super Vacations, exploding multicolored cover, extra short songs. Bingo ! Be realistic ! sometimes you don't need eight minutes to say what you have to say. So.
Recommended three times. Or more.
teeth mountain
ecouter/listen
acheter/buy or direct via the label shdwply records
the super vacations
ecouter/listen
acheter/buy or direct via the label shdwply records
velvet davenport
ecouter listen
acheter/buy or direct via the label shdwply records
bonus (youtube)
the super vacations
teeth mountain
photo "covered" by zb