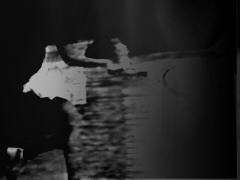 royal family and the poor
voices
1984
europeans
voices
1979
(française version)
John Ford. La chevauchée fantastique. Un après-midi, voici quelques semaines. En version française. Marc Valbel, voix de John Wayne. Raymond Loyer la faisait aussi. Plus tard. Dans "Inspecteur Sergil", un film de 1947, jamais vu, tous les deux, dans deux petits rôles, on les retrouve. Marc Valbel et Raymond Loyer. Aux côtés de Paul Meurisse.
"...on est des substituts, pas plus, tu t'rappelles..."
Cette histoire de voix, c'est arrivé, le mois dernier, mars ou février, pendant que je regardais "Elizabethtown". Version originale. A un moment précis, je me suis demandé quelle voix française pour Kirsten Dunst. En réalité, je me suis demandé, ce que donnait la réplique en français et de là, quelle voix etc... Prodige de la technique, le dvd, ses menus navigables et ses écluses. Plus tard, j'ai su le nom de la voix : Chloé Berthier.
...snap snap...
même titre pour les chansons, interprètes différents, c'est le contrast podcast 107.
(englikhtonian version)
John Ford. Stagecoach. An afternoon, a few weeks ago. In French. Marc Valbel, voice of John Wayne. Raymond Loyer made it too. Later. In "Inspecteur Sergil", a 1947 movie, never seen, in two short roles, both are seen. Marc Valbel and Raymond Loyer. Along with Paul Meurisse.

we're the substitute people, remember...

This voice thing, it happened last month, March or February, while I was watching " Elizabethtown ". Original version. Somewhere I wondered which French voice for Kirsten Dunst. In reality, I wondered, how was the replica in French and then, which voice etc... Prodigy of technology, dvd, its navigable menus and its locks. Later, I knew the name of the voice: Chloé Berthier.
...snap snap...
same title for two songs, different singers, that's
contrast podcast 107,
royal family and the poor
acheter/buy "the temple of the 13th tribe"
the europeans
acheter/buy emusic ou itunes
bonus (youtube)
the cure - other voices
image : "snap game" by zb