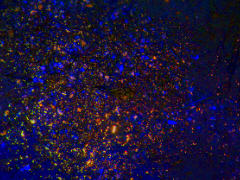 thuja
Lc Gd Gb
2008
ulaan khol
untitled 7
2008
(française version)
Abandonnant leurs parents, prisonniers de la réalité brutale des téléviseurs où, labyrinthe en construction, défilent actualités et télé-achat, en boucle, du siècle dernier, les enfants se sont envolés dans leurs espaces virtuels en quête éperdue de nuages paisibles et transparents dans des ciels toujours aux couleurs de leurs humeurs. Resté, en exil, rue principale, sur terre mais l'effleurant à peine de mes semelles, les yeux fermés vers le ciel, ouverts dans la tête, je rêve debout. Je rêve de boues rougeoyantes. De laves bleues. D'aubes jaunes et pâles. De premiers matins du monde faits de la petite tape vitale dans le dos. Du saut, vers l'absence, qui suit. De la chute accélérée. De la présence du parachute. De ses fils, qui, l'un après l'autre, jusqu'au dernier, lâchent. Réveil. Une photographie mentale pour mémoire.
(englikhtonian version)
Leaving their parents, prisoners of the violent reality of the television sets where parade, under construction maze, news and teleshopping, in continuous loops, off the last century, children flew off in their virtual areas in distraught search of gentle and transparent clouds in skies always to the colours of their moods. Remained in exile, main street, on earth but barely touching it with my thin-soled shoes, with closed eyes skyward, opened in the head, I dream standing. I dream about mucks aglow. Blue lava. Daybreaks, pale and yellow. First mornings of the world made of the small bringing-life knock in the back. Follows the jump in the absence. Speeded up fall. The presence of the parachute. One after another, until last, the straps give way. Return. A mental photograph, the only memory.
ulaan khol/steven r smith
acheter/buy "I"
acheter/buy "thuja"
bonus (youtube)
thuja live at the Glass House, Berkeley
(thanks to the excellent bc faulkner)

blog à suivre : joseph ghosn

photo "ZB's mindscapes" by ZB