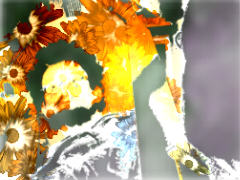 his name is alive
sweet earth flying
2007
marion brown & mal waldron
to the golden lady in her graham cracker window
1986
(française version)
C'est un disque inespéré, reçu, cadeau inattendu, à noel 86, dialogue entre un pianiste que j'adore au delà de tout (mal waldron) et mon altiste favori.
Tout aussi inattendu, l'hommage, inespéré, à ce dernier, par un groupe pour qui j'ai plus que de la sympathie et vers lequel je ne me tourne jamais sans avoir, au préalable, accroché quelques souvenirs amers aux ronces de ma mémoire, sachant que leur pop enchanteresse et décalée les dissipera.
(englikhtonian version)
It is an unhoped disc, unexpected gift, received, christmas 86, a elusive talk between a pianist whom I love beyond everything (mal waldron) and my favourite altsax (marion brown).
Also unforeseen, this tribute to the last mentioned, a tribute I never dared to hope for, by a band for whom I have more than sympathy and, towards whom, I never turn without having hung any bitter memories, in anticipation, on the brambles of my memory, knowing that the quirky dreampop they play will dispel them.
his name is alive
ecouter/listen
acheter/buy "sweat earth flower"

marion brown
itw marion brown (all about jazz)
mal waldron
acheter/buy "songs of love and regret" (emusic)
bonus (youtube)
his name is alive - come to me
mal waldron & jeanne lee - seagulls of kristiansund/white road

photo "paperworld flowr." by ZB