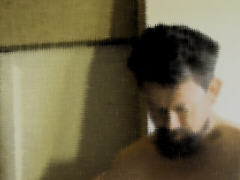 jandek
collection
1986
(française version)
En 1986. J e n'écoutais p.a.s Jandek.
Surtout j'ignorais s.o.n existence. J'étais trop occupé. à donner une année de la mienne à l'Ikhtonie.
En 1986.86.6. j'écoutais plutôt your funeral my trial. victorialand. the queen is dead. psychocandy. evol. ou radical hystery... C'est pourtant, douce ironie, avec un disque de 1986, Telegraph melts, que vingt ans après sa publication, ma route des sons croisait la sienne... mais, ce jour, je choisis ex-près un titre de "follow your footsteps", son autre album de1986 . Revenir sur ses pas, c'est ce que fait le N°86 du contrast podcast qui retourne, pour un peu plus d'une heure, en...
(englikhtonian version)
In 1986, I d.i.d n.o.t listen to Jandek.
Especially I did not know h.i.s existence. I was too much occupied. in giving one year of mine to Ikhtonia.
In 1986.86.6. l was rather listening to "your funeral, my trial". "victorialand". " the queen id dead". "psychocandy". "evol". or "radical hystery"... It is, however, soft irony, that, with a disc of 1986, "Telegraph melts", twenty years after its release, my path o'sounds crossed his... but, today, I deliberately choose a track taken from "follow your footsteps", his other 1986 album. Come back on its steps, it is what N°86 of the contrast podcast does, which goes back, for a little more than one hour, in...
contrast podcast 086, '
(J-7. N'oubliez pas de participer au Contrast podcast festive 50 !)
(don't forget contrast festive 50 ! time limit : j-7)
jandek
"follow your footsteps"
acheter/buy "follow your footsteps"" et tous les autres
bonus (youtube)
r. stevie moore - back in time (1986)
image : "zb, 1986" by zb