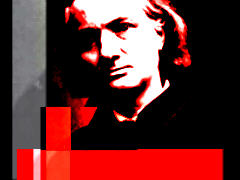 dead raven choir
the owls
2003
(française version)
"Qui fit L'ombre d'Eric ?
C'est Paulin Limayrac
Cric !
Crac !"
Je crois, c'est, dans ce livre (dont j'ai oublié le nom), que, la première fois j'ai appris l'existence de la forme poétique dite "limerick". Paraît-il, d'après l'auteur, c'en était un et, sorti de la plume de Baudelaire. Plus tard, j'ai lu le Pichois/Ziegler (une bio épaisse de Monsieur Charles). Le quatrain y est cité, page 219 de l'édition en dur et cartonné. Il y est dit que l'épigramme est anonyme mais... mais... mais... pas d'fumée sans feu.
Baudelaire mardi dernier, Baudelaire aujour'dhui et, d'après vous de qui sont ces "Hiboux" psalmodiés par le Choeur du Corbeau Mort ?
(englikhtonian version)
"Who did L'Ombre d'Eric?
It's Paulin Limayrac
Cric!
Crac!"
It's in that book that, I believe, (sorry me if the name is forgotten) for the first time I learnt the existence of a poetic form called limerick. Apparently, according to the author, that one was and plus, it came out from Baudelaire's mind. Later, I read the Pichois/Ziegler (a thick bio of Mr Charles). The quatrain got a mention, p.219 in the hardback edition. It is said there that the epigramme was anonymous but... but... but... no smoke without fire. Baudelaire last week, Baudelaire today and, who, do you think, wrote these "Owls" droned out in tones by Dead Raven Choir ?
If limericks you want,
limericks you'll get
in contrast podcast 082, '
and here's my personal rhymes :
"there once was a young lady named Tara comin'
from Ohio, as Lycia she's singin'
and she met Stone Breath Timothy
maybe 'twas 'round a cup of tea
I can't tell if day was happy black or tea green"
dead raven choir
listen/écouter
acheter/buy "wine women and wolves"
bonus (youtube)
gilles droulez - le vin de l'assassin
(website)
leo ferré - spleen
(leo ferre) (wikipedia)
image : "c.b" by zb