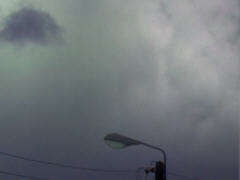 the builders and the butchers
...bringin' home the rain
2007
(française version)
J'attends l'orage.
Cet après-midi, j'ai trouvé, à la cave, sur l'une des étagères, une vieille lampe à pétrole. J'attends l'orage. Ils le prévoient grand ou grandiose. Après avoir allumé la lampe et m'être installé sous le porche, j'ai repensé à Jean Baptiste Kerouac, aux mots qu'il jetait à la face des orages : " Vas-y, vas-y si tu es plus puissant que moi, frappe moi et éteins cette lampe !". Pour me donner du courage, je joue l'album des Builders and Butchers, qu'une part résiduelle d'adolescence, conservée en moi, m'a poussé à acheter : il y a, sur la pochette, un crâne ! En les écoutant, je sais. L'orage peut venir. La lampe ne sera pas éteinte.
Jamais.
(englikhtonian version)
I wait for the storm. In the afternoon, I found, in the cellar, on one of the shelves, an old oil lamp. I wait for the storm. They envisage it big or grandiose. Having lit the lamp and being installed under the porch, I thought of Jean Baptiste Kerouac, of words he threw against the torn face of storms: "Come on, come on, if you are more powerful than me, knock me and put this lamp out! ". To give me courage, I play the album of Builders and Butchers, that a residual part of adolescence, kept in me, encouraged me to buy: there is, on its cover, a skull ! By listening to them, I know. The storm can come. The lamp will die out not.
Never.

the builders and the butchers
listen/écouter
acheter/buy
bonus (youtube)
the builders and the butchers - slowed down trip to hell
the builders and the butchers - bottom of the lake (youtube)
image : "find me in the air" by ZB