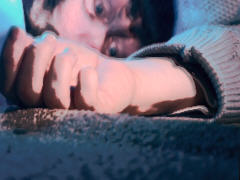 peasant
be free
2006
Paleo's diary : one song, each day
a good night in lemon town
(française version)
Voilà.
J'étais dans l'obscurité. A écouter le vent. En fait, c'est pas l'vent, phénomène naturel, que j'écoutais mais "The Wind", nouveau 7" de Peasant. Et même, pour être très précis, la chanson "Be free" qu'écoutais en boucle. Soudain, je ne sais pas si délire ou overdose de lecture des 100 premières pages du Dark Stuff de Nick K. mais illumination. Vers la quarante deuxième seconde. Les enfants de Brian et Caroline... un gars pour elle, une fille pour lui... j'veux dire cette chanson c'est la petite soeur ou la lointaine arrière petite cousine de... tu sais... faudrait que je pose, la prochaine fois que j'erre sur l'espace, la question à Damien DeRose, tête pensante et agissante de Peasant.
Si tel était, ne serait ce pas charmant...
(englikhtonian version)
That's it.
Was in the dark. Listening to the wind. Not the natural phenomenon, no, was listening to "The Wind", new Peasant's 7". And to be more precise, the song "Be free". Suddenly, I don't know, delirium or Dark Stuff's OD (y'know... the first hundred pages of Nick K's book) but illumination. Around the forty second seconds. Brian and Caroline's children. A girl for him, a boy for her. I mean this song is the little sister don't you or a great grand distant cousin of... you know who or what... next time, I'm erring on the space, I'll talk about it with Damien DeRose, Peasant's mastermind...
If it's it, wouldn't it be nice...
peasant
écouter/listen
buy/acheter ses disques
bonus
...don't miss any last night from glasgow webcasts !
photo by ZB