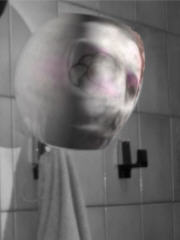 Paleo's diary : one song, each day
crazy dream
(française version)
Z'étaient en rupture de stock ! N'avaient p'us d'citrouilles ! ni d'potirons ! ni d'quoiqu'ce soit...tout c'qu'il leur restait c'tait une tomate géante et deux bras mécaniques. "Attention ! avait prév'nu la vendeuse les lames sont aiguisées !"
J'prends les deux - j'ai dit - et la tomate et les bras mécaniques...ça va êt' marrant !
Deux heures plus tard, rentré à la maison, m'suis assoupi pendant qu'les murs d'la pièce rétrécissaient à vue d'oeil ... l'image - désormais floue - était passée en noir et blanc crasseux tandis qu'du 31 de la rue Contrast montaient des rythmes et des cris qui troublaient mon sommeil...
(englikhtonian version)
Out o' stock th'were ! No more pumpkins ! No mor' whoa' evah y'nam' it! Th' only got one giant smi-lying tomato ! an' two-'chanic arms !
"Beware, seller she said, blades are sharp !"
"O-kay ! am takin' both - tomato an' arms, I said, it wee-be fun 'n crazeeee !".
Tw'hours later, back home, fell asleep as the room walls were shrinking... the image - blurred - was now in a dirty black an' white... in my neighbourhood, from 31, Contrast St. strange rhythm'n shouts came and troubled my sleep...
(My CP31's contribution ,"Five long knives", is taken from "Lewis Neptune", Moimir's Nihilists new album. Can order it via their website.
voir/écouter/listen moimir papalescu and the nihilists)
bonus
cramps -the way I walk (Live at Napa State Mental Hospital 1978 - youtube)
photo and artwork by ZB