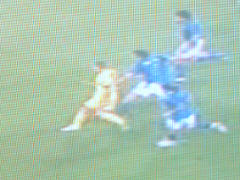 pat boone
love letters in the sand
1957
Paleo's diary : one song, each day
a drop in the bucket
S'appelle Karl-Heinz. Vingt quatre ans. S'appelle Silke. Deux de moins. Ne parlent plus car s'embrassent. A l'arrêt de bus. Et de les voir, ça me rappelle une chanson d'été de Brian Hyland, "Sealed with a kiss". Me souviens qu'elle figurait sur cette compilation allemande "Story of Pop". Qu'en deuxième position seulement, elle était précédée par la chanson de Pat Boone.
Un type a klaxonné et j'suis revenu en 2006 où une chanson comme "A chance encounter" de Mason Proper devrait me suivre tout l'été. (cf sothewindblogradio et le site des Mason Proper). Ainsi que "Clouds of people", le nouvel EP des Sky drops !
(englikhtonian version)
His name is Karl Heinz. Twenty four years. He's with Silke. Two years less. They don't speak anymore because they're kissing. At the bus stop. To see them, it remembers me a Brian Hyland's summer song, "Sealed with a kiss". I remember the name of the compilation, a german one, "Story of pop". It begins with Pat Boone's version of Love letters in the sand. Then Brian sings.
Someone hooted and I came back in 2006 where a song like "a chance encounter" (taken from "There's a moth in your chest", first album of Mason Proper - see their website and the sothewindblogradio) should follow me all this summer. As "Clouds of people", the new Sky drops EP !
mason proper
écouter/listen
acheter/buy "there is a moth in your chest"
sky drops
acheter/buy "clouds of people"
pat boone
acheter/buy "Pat's 40 big ones"
bon week end !