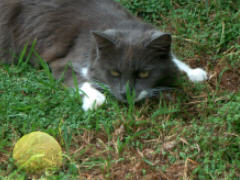 sibylle baier
tonight
1973
Paleo's diary : one song, each day
ashes to dust
"Excusez moi. J'vous laisse. J'vais regarder le match de l'Argentine." Il descendait du car quand il m'a dit ça. Un grand maigre à cheveux courts au plus près du crâne. Peut être que tous ceux et celles qui en descendaient étaient aussi pressés que lui parce que, très vite, me suis retrouvé seul. A l'arrêt de bus. Avec, pour seule compagnie, quelques feuilles mortes que le vent faisait tournoyer. J'allais pas attendre la nuit, ai fait comme eux, suis rentré voir le match de l'Argentine. Qui avait déjà inscrit un but.
(englikhtonian version)
"Excuse me to let you but I'm going home to see the match of Argentina." He went down from the bus when he said that to me. Large thin man with short hair very close to cranium. It seemed to me that all those and these, who went down from there, were as in a hurry as him because, very quickly, I found myself alone. At the bus stop. With, for only company, some dead sheets that the wind made whirl. I wasn't going to wait the night, did like all of them, returned to see the match of Argentina. Who had already scored.
CONCOURS SNEAKY THIEVES
écouter/listen Sneaky Thieves
un exemplaire de leur album "Accident(s)" à gagner.Tout ce qu'il y a à faire : m'envoyer un mail "concours sneaky thieves" et mercredi prochain Miss Cat Flower, de sa jolie patte, effectuera un tirage au sort.
a specimen of their album "Accident(s) to win", the mission for you is to send me an email "contest sneaky thieves" and, wednesday, Miss Cat Flower, with her pretty leg, will randomly select a winner.
sibylle baier
acheter/buy "colour green"
bon week end !