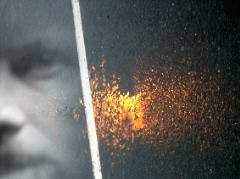 sonny rollins
coleman hawkins
yesterdays
1963
Virginia Woolf, dans son roman, Mrs Dalloway, tentait, en une journée unique, de raconter la vie entière de son héroïne, Clarissa. Mark Twain prétendait que chaque jour de la vie d'un homme pouvait donner l'occasion d'un roman et chacun des romans ainsi écrits constituerait la biographie de cet individu. Entre ces deux extrêmes, qu'est il possible...aujourd'hui ou hier..
(englikhtonian version)
Virginia Woolf, in her novel, "Mrs Dalloway", tried to relate in one full day the whole life of her heroin, Clarissa. Mark Twain claimed that each day of the life of a man could give the opportunity of a novel and each novel thus written could constitute the biography of this individual. Between these two extremes, what should likely be...today or yesterday
sonny rollins
coleman hawkins
acheter/buy "sonny meets hawk !"
écouter/listen "ikhtonia"